About Me
I am a self-taught artist, working in Springfield – about half-way between Brisbane and Ipswich – Queensland, Australia.
I work mostly in acrylics and watercolours. I draw inspiration from the natural world and from science, and represent it in a figurative and sometimes abstract way.
My Starlight Series of watercolours is a romantic, whimsical series of paintings featuring trees and flowers, with a swirling starry sky as a background. Another series of watercolours is called simply Love. Paintings in this series are figurative and romantic with lots of warm colour tones. I love to paint the natural world and therefore trees and flowers feature predominately in my work, particularly in my acrylics. I like to use bold colours and brush strokes, and to represent the subjects in a contemporary way.
My latest series of works is an exploration of science through art. From microscopic views all the way to outer space, there is a lot of beauty to be found in many scientific concepts, and my hope is to represent this through my art.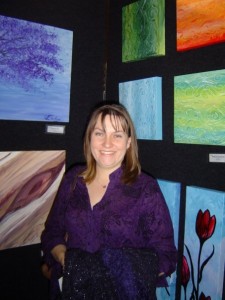 I have been lucky enough to have the opportunity to create a few artworks for family and friends, designed especially for their living spaces. I chose colours and subjects according to their décor and their preferences, and created unique works of art just for them. I am excited by the idea of making custom-made art for others too.
In addition to my gallery here on the site, I also still maintain my deviantART site, where you can view lots of examples of my work.
Tweet This Post