I would love to create a commissioned piece just for you!
Here are some examples of the services I offer:
A recreation of a past painting:
Sometimes I get requests for recreations of paintings I have already sold.  I'm always happy to do this!  My style is very fluid and I tend to paint straight onto the canvas or paper without too much planning or sketching out beforehand, so no painting will ever be a perfect replica, however I believe this is a good thing because it means each purchaser gets their own unique painting.  So if you've seen a design of mine and didn't get to snap it up in time, you can request something similar!  You can also request a painting in a different size or medium to the original.  In the example below, I created a large painting on canvas in a similar style to much smaller watercolour painting, Colours of Nature.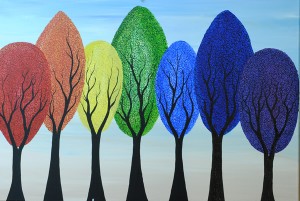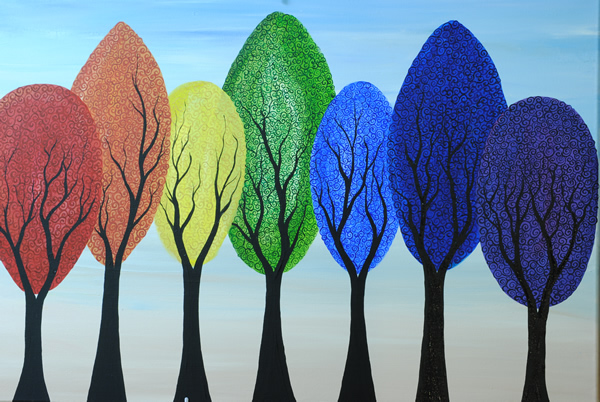 'Family tree' portrait paintings
I can create a painting for you to represent your family in an abstract way.  For example, the painting below was created when my son was born.  The two bigger trees represented my husband and myself, with the green tree representing our son.  I used colour to show that our son is a combination of the two of us, as well us the green hearts to show our love for him.  I can create a piece like this for any kind of family, including blended families with stepchildren.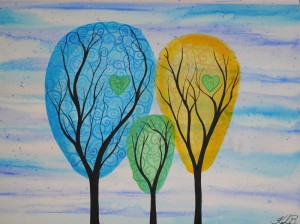 Celebration thumbprint signature trees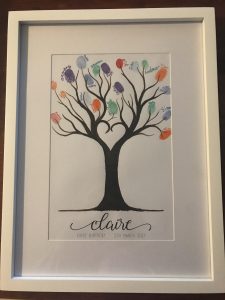 I can create a personalised tree ready for you to add thumbprint signatures to for weddings, birthdays, christenings, engagements and other special occasions.  The difference between my trees and many you will see on the market is that mine are completely hand painted you are still purchasing an original piece of art.  I'm not as good at lettering as I'd like to be though, so the lettered part is printed.
A painting in my style incorporating your ideas
Have something specific in mind you'd like me to create?  Just contact me and let me know what you're looking for!  I can make something in a style and colours to suit you.  Here are some examples of paintings I've done on request in the past: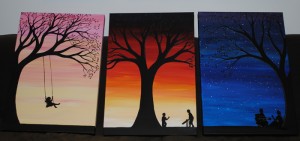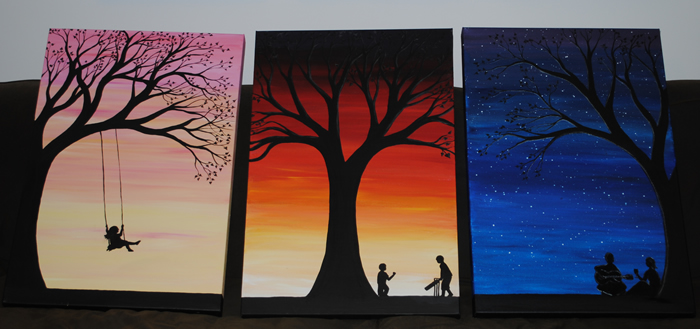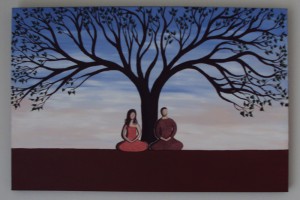 A painting for a special occasion
What better present for a wedding, engagement, christening, baby shower or birth, graduation or birthday than a personalised painting?