Commissions
I specialise in designing artwork to match your décor. If you live in the Brisbane area, I will visit you to get a good idea of the space the painting will be hanging, and discuss ideas with you. If you don't live in the area, you can send me photographs of the hanging space and, with discussion of your preferences, will design a painting to match the space it will be hanging in.
Please feel free to contact me about creating a commissioned piece for you.
Below are some examples of pieces I have designed in the past – click on the images for a larger version:
Paintings can be designed to fit your decor: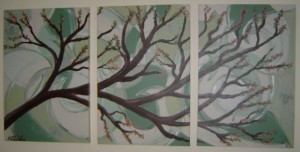 I can incorporate your own ideas into a painting
If you like one of my paintings but it is already sold, or too small for what you want, I can create something similar especially for you
I can create something to commemorate a special occasion
(this painting was created for my brother's wedding)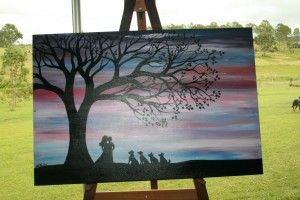 This painting features a silhouette of the happy couple with their four dogs, and was displayed at the wedding.
Tweet This Post