To celebrate the fact that Christmas is approaching ever-so-quickly, (which means school holidays are nearly here!) I've decided to host my very first giveaway!
Up for grabs is a $25 gift voucher for KL Bailey Art, which you can spend at My Etsy Store or use to purchase a painting directly from me via this website or Facebook.  There is 1 gift voucher to be won, and I will send it anywhere in the world!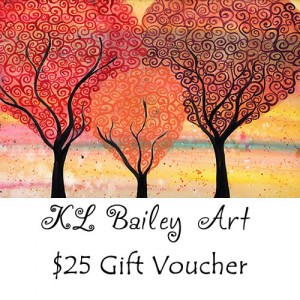 Here's how to enter – each of the things below will get you one entry in the draw.  Please post each entry as a separate comment (if you write everything in one comment it will only count as one entry!).
1.  Visit my Etsy store and comment here about which item you like the best.
2.  Become a fan of KL Bailey Art on Facebook.
4.  Write a blog post about this giveaway, and post a link to your blog in the comments.
5.  Tweet about this giveaway.
6.  Post a link to this giveaway on Facebook.
7.  Post a link to the KL Bailey Art fanpage on Facebook.
8.  Purchase any item in my Etsy store for 5 entries.  Be sure to comment as 'purchase #1, #2, #3, #4, #5' so all entries count.
Entries will be drawn on Saturday 12th December.  Best of luck to you all!