Earlier this week I wrote about the Two Happy Stampers Colour Challenge.  When stuck for ideas for a theme for my Saturday Selections this week, I thought why not take the colour challenge that little bit further, and find some lovely items from Etsy featuring Coral, Teal, White and Navy?
Here's what I found: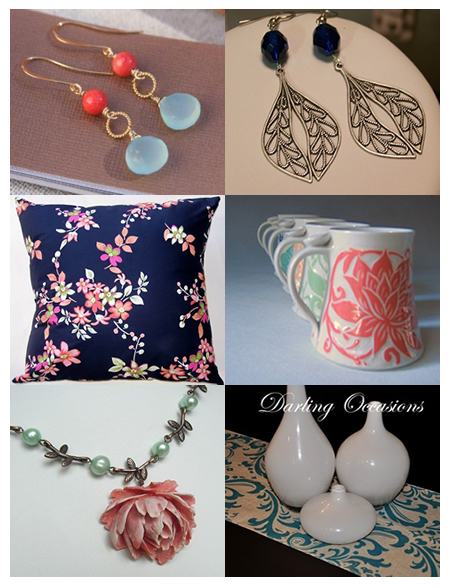 Top to bottom, left to right:
1.  Mermaid Twist Earrings by Gypsy's Closet.  Simple but elegant and beautiful, these earrings feature a coral bead and aqua chalcedony briolette connected by a gold twisted loop.
2.  Royal Blue Earrings by Designs by Tisha.  These are just stunning.  The Morrocan silver plated filligree drops are so pretty, and are set off beautifully by a blue Czech fire polished crystal.
3.  Navy Blue Pillow Cover with Cherry Blossoms by Sassy Pillows.  I love the way the navy background on this pillow sets off the pretty coral, green and white cherry blossoms.
4.  Lotus Favorite Mug by YogaGoat.  Most of us have a favourite mug or cup – the one you always reach for when you need that cup of tea or coffee.  I can easily see this mug becoming someone's favourite –  I love the coral lotus flower design, and the little thumb rests on the top of the handles.
5.  Unique Summer Garden Necklace by You and Me and Bead.  Isn't this necklace just so pretty?  It features a coral coloured flower with little antiqued brass branches and soft teal green freshwater pearls.
6.  Turquoise and Ivory Traditions Damask Table Runner by Darling Occasions.  I love table runners – they're a great way to create a feature of your table, and tie in the colours of the room, without covering up the whole table like a tablecloth does.  This pretty runner would be a great centerpiece to any dining table.  I love the way it's been paired with the white vases in this photograph, too.
I think I still have one more idea up my sleeve for this colour challenge, so stay tuned…