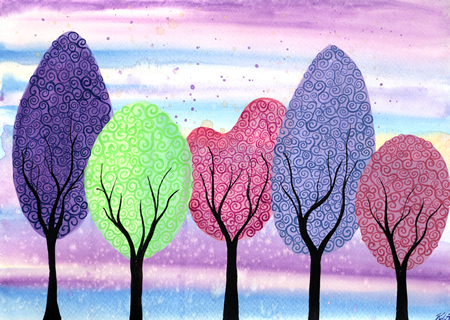 Because, seriously?  I've had enough of winter.  I've always been more of a warm weather girl.  I love the way everything seems to come alive in the warmer months.  The sun is up longer, people are out longer, and I get to wear nicer clothes (I get heartily sick of covering up everything in a big coat in the winter time).
So, even though it's not *quite* spring yet, and the winter westerlies are still blowing strongly and sending the kids at school crazy (what is it with kids and wind?), I though I'd share with you some Spring Etsy favourites: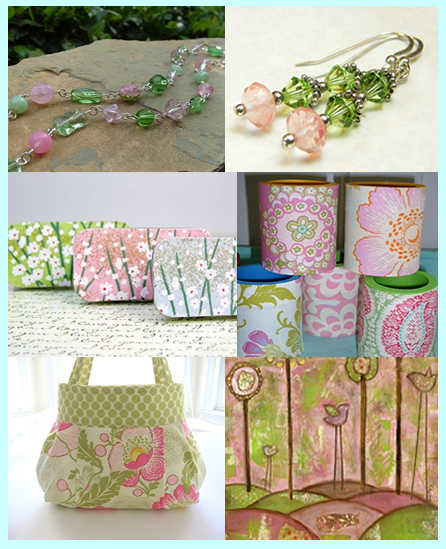 From left to right and top to bottom:
1.  Inspired by the new green leaves and fresh buds of Spring, this pretty necklace is called "Spring Talk".  It's one of the many beautiful jewellery designs from KuroNeko – I couldn't resist adding several things to my favourites list!
2.  These pretty pink and green earrings from Treasured Lily Designs are called "Spring Kissed Me Bang" – the name is inspired by the following quote: "I stuck my head out the window this morning and spring kissed me bang in the face."  I'm definitely looking forward to a big old smooch from Spring!
3.  I have a thing for little tins and boxes.  I have more of them than I have stuff to put in them, but I find them hard to resist!  These 3 Mini Tins in "Spring Field" paper from Annie Howes Keepsakes are just gorgeous!
4.  Who says stubbie coolers are just for the boys?  I would love to bring out these Preppy Pink and Green Can Koozies by Pink Gasoline at our next BBQ!
5.  This Poppies Pleated Bag by A Touch of Stardust would be the perfect accessory for that spring outfit!
6.  I've discovered a new favourite artist with Bit O' Whimsey.  This gorgeous print of an original mixed media painting is called "Springtime Meadows" – be sure to click on the link because I couldn't fit the entire picture into my little collage!  Like me, Kandy from Bit O' Whimsey makes wearable art pendants from her work, so if you can't afford an original or a print (or like me you are running out of wall space!), a pendant might just be the way to go.