Looks like I've missed a few of the Two Happy Stampers colour challenges.  I'm determined to create a painting based on September's colours though.
In the meantime, here are some beautiful items from around Etsy which fit into the colour scheme: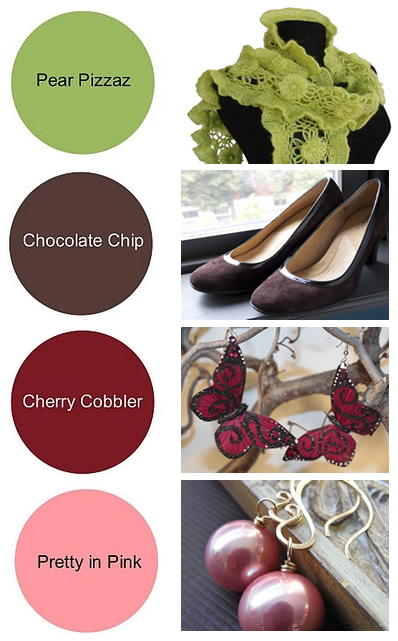 1.  I'm happy to say that we're moving out of scarf weather here in Queensland, and into beautiful spring!  But for those of you in places which are still a bit frosty (or moving into the colder weather), this gorgeous scarf would be perfect!  I'm tempted to get one for myself and stash it away for next winter.  Very feminine and pretty, it was hand crocheted by Ayca in gorgeous pear-coloured mohair blend yarn.
2.  I made the mistake of searching for "vintage" in my quest to find a really great chocolate brown item for this post.  I don't know why I do it to myself!  I invariably find gorgeous shoes that DON'T FIT ME.  I swear I found about 6 pairs of shoes I absolutely loved but none of them were in my size!  My favourites of all were these vintage chocolate brown suede heels from Folie A DeuxVintage.  Trust me I would be buying them intead of posting about them if they were in my size!  Incidentally, Folie a Deax means "a madness shared by two" – although I think more than two of us share a madness for vintage!
3.  I love butterflies, so I couldn't go past these beautiful Burgandy Victorian Butterfly earrings by Tigerfli.  They're quite large earrings but would still be very light to wear.  Big and bold yet still dainty and feminine.  They look fantastic on, check out the pictures in the listing.
4.  These South Sea Shell Pearl earrings by Realisation Creations are most definitely pretty in pink!  Elegant and pretty, they would make a beautiful accent to any outfit.  I love the little extra touches in these handmade earrings like the pretty gold swirls on the earwires.
Many thanks to Heidi and Adriel from Two Happy Stampers for providing the inspiration for this post!  Stay tuned for a painting using this colour combination… I'm thinking about combining it with this week's Illustration Friday topic, "Dessert".  Hmmm…