I love handmade gifts – I am giving some of my paintings to family and friends for Christmas this year, and am hoping to get time to do a personalised painting for someone as well.
This week's topic for Inspire Me Thursday is "Make a Gift".  As I haven't had time to do the personalised painting I'm planning (should be done in time for Christmas, just not for Inspire Me Thursday), I came up with this idea instead: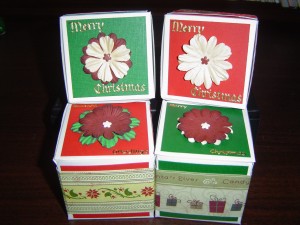 These little gift boxes were handmade, and each one is unique.  Inside is my homemade rocky road chocolate.  I hope they will make nice little Christmas gifts!
Speaking of Christmas gifts, my 2009 calendars make a lovely gift.  Sorry for all the self-promotion – I know, I'm shameless 🙂