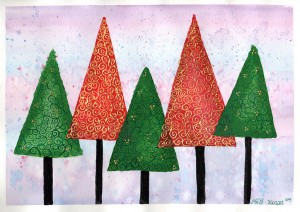 You would think that now I'm on school holidays I would have gotten my act together and had my Friday Favourites published on time… but you would be wrong.  So this is more like Saturday Favourites (but that doesn't have the same ring to it!).
I've been busy working on a commissioned piece so that's my excuse 🙂
Next Friday as you know is Christmas day, and I will be busy cooking up a storm (or setting things on fire) in the kitchen – so I won't be posting a Friday Favourites.  So this week I've decided to do a Christmas themed set of red and green items.
First up this week are these beautiful Christmas Cards by Moonmum (who is a fellow Aussie!).  I love the fact that these are something a little different to what you normally see on Christmas cards.  The birds are cute and the stitching really adds another dimension.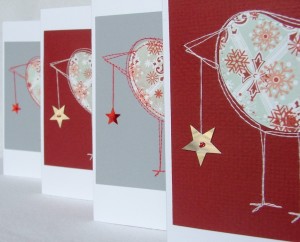 I know it's probably a bit late to be thinking about Christmas cards now, but Moonmum has lots of other cards in her shop for all occasions which are just beautiful, so make sure you check it out!
Next up are these cool Amoeba Kelly Green earrings by Under Glass.  These unique earrings would be lovely for any time of year, not just Christmas!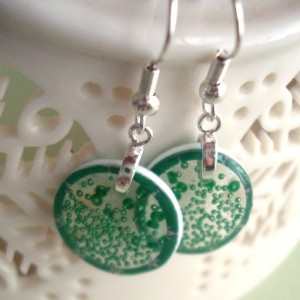 Time for another red item – This wonderful bracelet titled "Blooming Garden" by Blue Dove Studio.  I think this bracelet would go perfectly with my red Christmas dress – but like the earrings it's not Christmas themed so would be pretty at any time of year.  I just love the antiqued brass branch charm in this bracelet.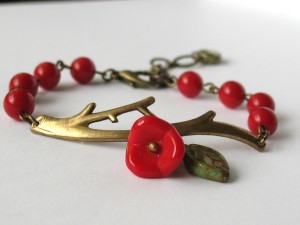 Next up in my little red and green pattern (did you notice?) are these lovely Green Holiday Earrings by AZ Bead Girl.  I just love the little diamantes!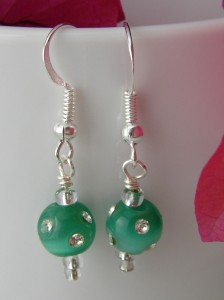 Finally, I have to break my red-green-red pattern because I just couldn't resist including this beautiful soap by Aniselle Bath & Body.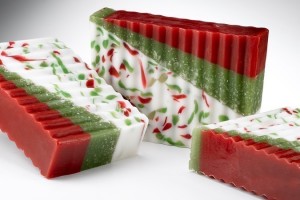 Isn't it just gorgeous!?  Would be wonderful to have in the bathroom as a handsoap around Christmas time when guests come around.  The soap is Sage and Pomegranate with Olive oil and Goats milk, so it sounds like it would smell and feel as lovely as it looks.
Well that's it!  My last Friday Favourites for 2009!  I should be back with another blog post before Xmas though – I'm hoping to do a painting for Monday Artday if I get to it in time.
Have a lovely weekend!