I know, I'm a day late with this one – I was having a very lazy day yesterday.  I'm hoping to make up for it with lots of painting today.
This week's Saturday Selections (well, Sunday Selections) is inspired by the colour pink.  Pink and I have had a chequered history.  I loved pink when I was little, and then as I grew older I decided I hated it – I think I was rebelling against the whole 'pink is for girls' thing.  Now that I'm older still I'm loving it again – so here are a few of my favourite pink items from around Etsy:
First up is this devine lace tunic by Lirola.  I have been eyeing this one off for a while now – I just love the pretty fabric and the applique embellishment!  I think this top would be great worn with a pair of jeans, a pretty necklace and heels. I will be snapping this one up myself just as soon as I can afford it!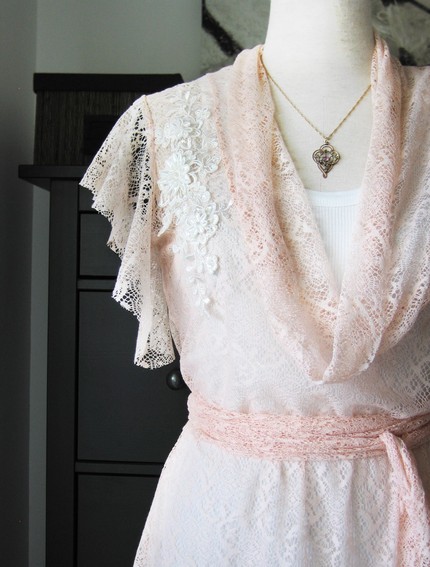 I've been really into wearing bracelets lately, something I never used to bother with, but there are so many pretty ones around that I just can't resist.  This is one of them – it's called Monet, Iris' Sterling silver lampwork bracelet, by Kajulee.  I love the mottled colours in the lampwork beads, and the Swarovski crystals they're paired with make a beautiful match.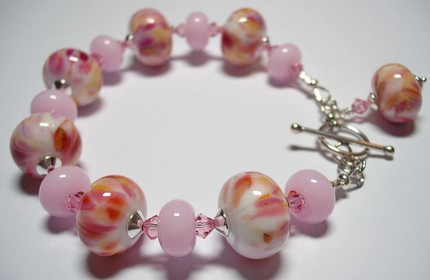 Isn't this 'Poppy' scarf by Tutus2 so pretty and feminine?  It is made using vintage silk kimonos and japanese silk, and is one of a kind.  I love the idea of using vintage materials to make new handmade objects, and this scarf is a great example of that.
Last, but not least, is this gorgeous necklace by Rue de Bijoux.  It's called "When she visited the Patisserie diet was the last thing on her mind" – isn't that a fabulous title?  All of the jewellery at Rue de Bijoux has great titles like that – the shop is worth looking at just for that,  but it is also filled with beautiful vintage inspired jewellery.  This pretty necklace is one of my favourites: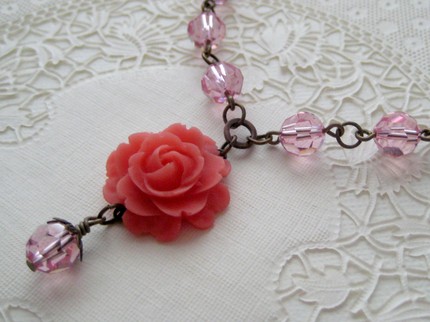 Be sure to check out all the other lovely items these sellers have in their shops!