I'm looking forward to creating an artwork for the Two Happy Stampers July colour challenge soon.  In the meantime, I thought this beautiful selection of colours would be a great inspiration for my Saturday Selections this week: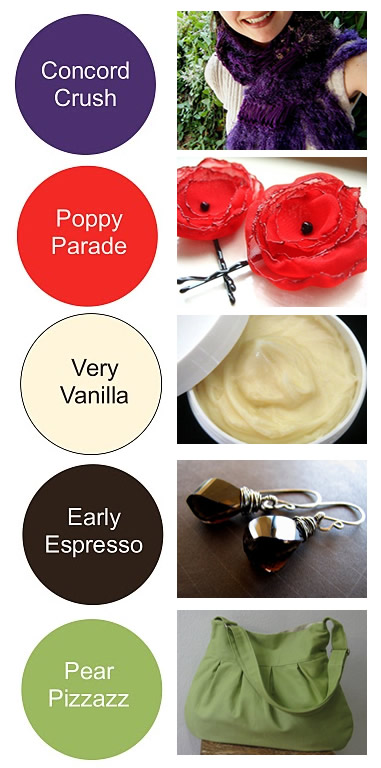 1.  In "Concord Crush", this beautiful Handknit Scarf by Crickets Creations.  I just love the different textures and shades of purple in this gorgeous handmade scarf – the title says "fit for royalty" and it certainly looks it!
2.  For "Poppy Parade", I've chosen these vibrant Red Chiffon Flower Hair Pins by Nomsa.  I love their simple elegance – what a wonderful finishing touch to your outfit!
3.  In "Very Vanilla", we have this gorgeous looking Paradisi Body Butter by fellow Queenslander Rhasdala.  This creamy moisturiser is perfect for soothing dry skin, and features a blend of soft vanilla and refreshing grapefruit scent.  The Paradisi scent is one of Rasdala's most popular, and is also available in soaps, bath salts, lip balms and many other body and beauty products.
4.  I love the warm, dark colour of "Early Espresso" – I think these Smoky Brown Quartz Wire Wrapped Earrings byAngelene (anothe QLDer!) capture the colour perfectly.  These two high-quality smoky quartz briolettes in a rich coffee colour have been spun with sterling silver wire to create this beautiful pair of earrings.
5.  This Pear Canvas All-Purpose Pleated Bag by Tippy Thai matches the "Pear Pizzazz" colour perfectly!  It is made from high quality canvas, and features an adjustable strap as well as plenty of compartments for all your essentials.
I hope you liked this week's Saturday Selections.  Which is your favourite of the five colours above?  I can't decide between "Concord Crush" and "Early Espresso".