It's Easter time again already.  Easter means three things to me – family, holidays and CHOCOLATE!
I am notorious for having pretty much no willpower when it comes to chocolate.  But it's not just the edible kind I love!  I love warm and inviting chocolate brown as a colour, too.
Here are some of my favourite chocolate brown items from Etsy: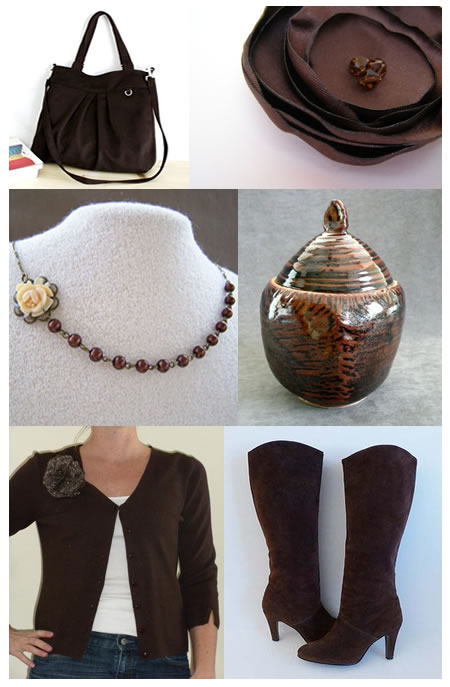 From left to right and top to bottom:
1.  The chotto tote/messenger in chocolate brown by Christy studio.  It's practical, stylish and comfortable to carry, and the chocolate brown colour would go with so many outfits!
2. Small chocolate flower hair pin by Princess Allure.  Add a little feminine style to your outfit with this pretty hair pin!  Each petal has been handcrafted using chocolate coloured satin, and it features three Swarovski crystals in the centre.
3.  Chocolate rose necklace by Heather Berry.  Chocolate brown faux pearls have been hand linked together and decorated with a creamy rose and filigree medallion. This pretty feminine necklace would go beautifully with the cardigan I've featured!
4.  Chocolate Jar by TC Art.  This doesn't quite fit in to the rest of my theme which are all wearable items, but it is so cute I couldn't resist including it!  I'm a sucker for little jars and knick-knacks.  How cute would this be filled with a few little chocolates?
5.  Upcycled Cardigan – Chocolate Cookie by Caroline Joy.  I just love the idea of upcycled vintage – it's great for the environment and means you will have a completely unique item for your wardrobe.  This cardigan is a great example of that – its a modern look using a rescued sweater.
6.  Walk Tall vintage chocolate brown high heeled boots by Planet Claire Vintage.  I LOVE LOVE LOVE these boots!  I would definitely have snapped them up myself already if I didn't have the feet of a giantess (they're a size 5).
I hope you've enjoyed my selection of chocolate goodness this weekend!  Please let me know what you think of the new format, too (i.e. putting all the pictures at the top together instead of spacing them out).
Have a safe and happy Easter!