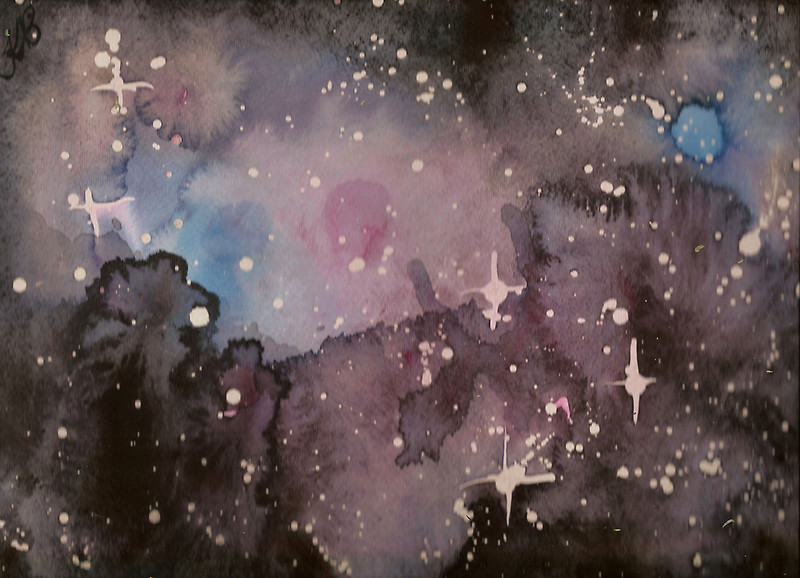 I've always been fascinated by the stars – I love looking up at the night sky, especially when I'm away from the city and the artificial light no longer dims the stars.  One of my favourite childhood memories is that of looking through a neighbour's telescope.  So it's not surprising that stars feature heavily in my artwork.  Nor is it a surprise that some of my favourite Etsy items are star-themed as well.  Here are a few of them: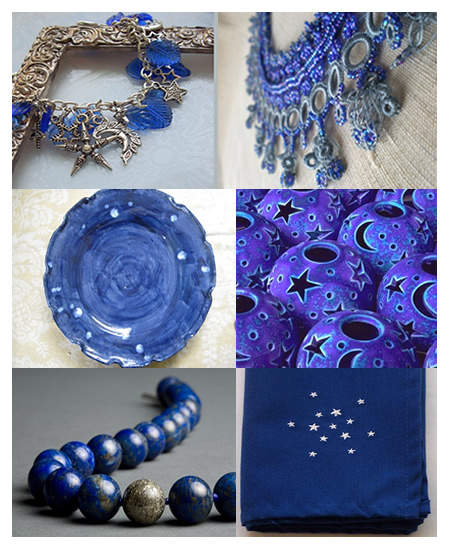 From top to bottom, left to right:
1.  Starry Night Cobalt Glass and Silver Charm Bracelet by Trash and Trinkets.  This charm bracelet features the prettiest shade of blue, along with star and moon charms.
2.  Stellar Stream – Indigo/Gray Freeform Crochet Necklace by Irregular expressions.  I am in LOVE with this necklace!  I love the title 'Stellar Stream', and it really does bring up memories of seeing the milky way clearly emblazoned across the sky.  Best of all, it's totally unique!
3.  Starry Night Serving / Pasta Dish by Spinster Sisters Pottery.  This dish is so pretty it almost seems a shame to put food on it!  Glazed in midnight blue with white crystal stars, it would make a wonderful centerpiece to the table.
4.  The Original Velvet Purple Candileria by Blue Room Pottery.  How cool are these?  I can just imagine how pretty a room would look lit by candlelight filtered through one of these beauties, stars playing against the walls.
5.  Starry Night Necklace Lapis Lazuli, Pyrite, Sterling Silver by Red Chair.  If you were to trap the night sky in a string of pearls, I think it would look something like this.  This stunning necklace features lapis lazuli beads, blue as the night sky, offset by the shine of Pyrite.
6.  Starry Night Embroidered Cloth Napkins by Monkey Beetle.  These simple, elegant and beautiful napkins would add a little starlight to any dinner table.  You can even get a glow-in-the-dark version!