Yesterday I attended my first ever BrisStyle meeting (this is my excuse for doing my Saturday Selections post on Sunday, btw).  It was great to put faces to names, even though I was a little too shy to talk to everyone!
I thought it fitting that I highlight some of my favourite items by fellow BrisStyle members this week: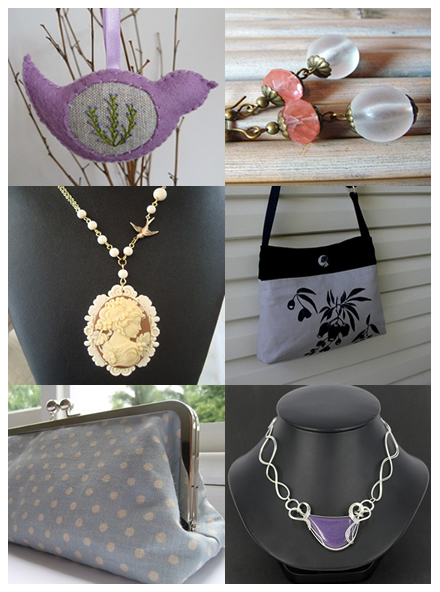 Top to bottom, left to right:
1.  Lavender Scented Bird by Edward & Lilly.  I just love these little birds!  The belly of the bird is filled with lavender flowers, and hand embroidered on the front.  Perfect for hanging in your wardrobe to keep it smelling lovely!
2.  Old World Rose earrings by Little Yellow.  Aren't these pretty?  I love the combination of the antique bronze with the cherry pink quartz rondelle.  A little bit of old world style and elegance.
3.  Delightful Daphne – Cream Brown and Gold Cameo Necklace by Love Chrissa.  This necklace certainly is delightful!  The beautiful brown and cream Cameo matches perfectly with the ivory coloured antique Cameo base.  My favourite little touch is the pretty antiqued brass sparrow – it adds that little extra interest and charm to this necklace.
4.  Small Shoulderbag with Eucalyptus screen print in black by PalumaPrint.  Made from cotton canvas fabric in grey and black, this one of a kind bag features PalumaPrint's original eucalyptus design.  It's simple elegant style makes this a versatile bag that would go with any outfit!  With free shipping to Australia and NZ, what's not to love?
5.  Blue and White Spots Clutch by Chi Designs.  I love the soft pretty polka-dot design of the Japanese linen/cotton fabric this clutch is made from.  It's large enough to fit all the essentials, making it perfect for everyday!
6.  Lepidolite Wire Wrapped Pendant with Stirling Silver Necklet by Rock'n'Wrap.  Isn't this just stunning?  Featuring a focal pendant of frosty purple lepidolite paired with a solid stirling silver necklet, this isn't just a necklace, it's a work of art!
I've only highlighted a few Brisstyle members in this post – be sure to check out the other members and the beautiful things they are making!