Last year, I was lucky enough to be approached by Mali Apple and Joe Dunn, writers of The Soulmate Experience, to contribute to their new book, 52 Prescriptions for Happiness: A Year of Inspiration for the Mind, Body and Soul.  I was happy to donate the use of my painting, 'Reaching for the Stars' to this project.  I feel honored to be included among the talented artists featured in this book.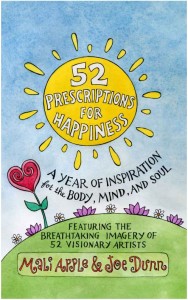 What are my own thoughts about happiness and how to create it?  I think different people find their happiness in different ways, so here are some of the things that make me happy:
Creating
Even when I'm not painting (and I did have a very long break without painting), I'm always creating something.  I love to draw and doodle, and to create scrapbook pages.  I like making crafts and I l0ve to cook.
Appreciating the little things
A beautiful sunset.  A hot cup of tea.  SLEEP. (Oh, Sleep, how did I ever take you for granted!?) My baby's smile.  Something I'm guilty of is spending too much time looking forward to big events, and not focusing on the little sweet moments of the everyday.  When I do focus on these things, I have a happier day.
Family, Love and Friendship
This is something I'm appreciating more and more since the birth of my baby.  I get so much happiness from my friends and family, and the support they have given me since Xander was born.  I love being a part of our own little family.
What things make you happy?  How do you create happiness in your own life?