Something happened this morning that hasn't happened in what feels like an age.  I picked up a paintbrush, and started a painting.  I can't remember the last time I did this.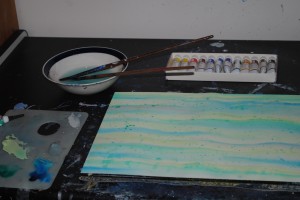 There are a lot of reasons why I haven't painted in a long time, and why I haven't updated this website.  A wonderful reason is that in November my husband and I welcomed a new addition into our family, our son Xander.  I can't believe how much my life has changed and how much I love my little boy.
Today, I decided to do a painting to hang on his bedroom wall.  As I sat down to paint, I thought about how long it had been, and how much I enjoy painting.  I thought about this website and my Facebook page and Etsy store, and how I have neglected them.  I guess I felt like I had nothing to post about if I hadn't completed a new painting, but I know that's not true.  I'm going to try to be a little more regular with my posts.
I can't wait to get back to working on Xander's painting (if he would only have his nap!) and sharing it with you all.