Many people are looking for interesting art for their walls to represent their families.  I myself have grand plans for a family feature wall in our next house.
I can create a work of art for you that represents your family in a unique way.  In my family tree portraits, I represent the family using a number of my signature swirly trees.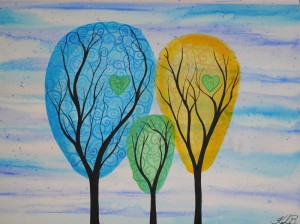 In the portrait, I represent each parent in a different primary colour.  I then represent the children as a secondary colour that is a blend of the two parents' colours, to represent that the children are a blending of the two parents.  I also use hearts to represent the love the family shares.  I can do any variation on this theme you like, including creating a portrait for blended families with stepchildren.  It is a great way to have an artwork on your wall that uniquely represents your family.  These paintings can be created as anything from small watercolours on paper to large acrylic paintings on canvas.
Another way your family can be uniquely represented on your wall is in a painting like this: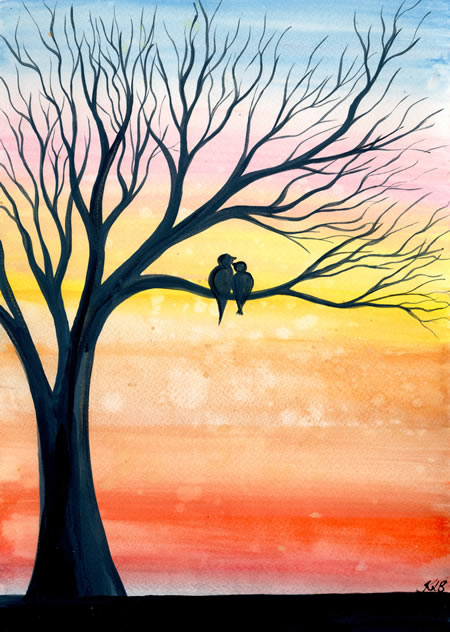 In this painting, only a couple are represented – however, smaller birds could be added to represent children.  Once again, a painting like this can be commissioned as anything from a small watercolour to a large canvas.  I have plans to create a painting like this for my own family – but I think I might make the background more like this one: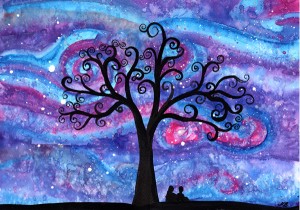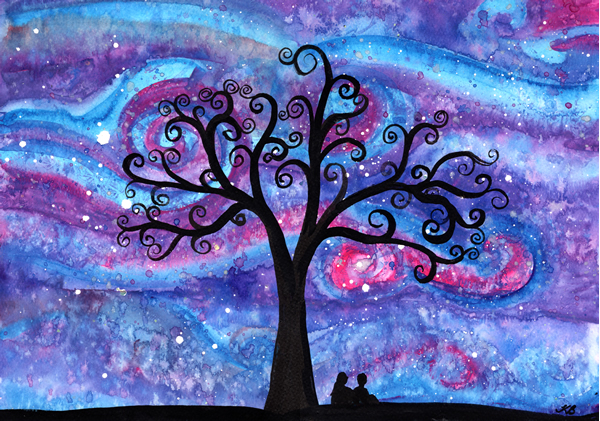 If you'd like to commission a painting that represents your family in a unique way, please contact me!