This month I once again participated in the DUST team swap, and once again it was a wonderful experience.
I was paired up with Briony from Petaliferous, who makes handmade, one-of-a-kind, vintage, upcycled, fun and whimsical jewellery. I was spoilt rotten – here are the goodies I received: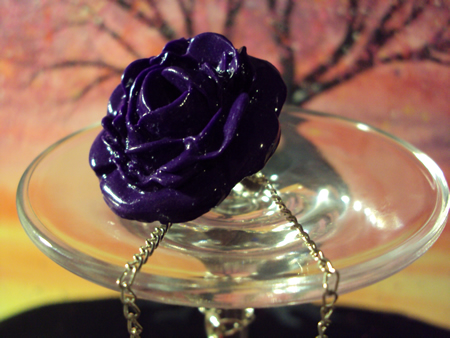 A purple rose Cabochon Ring – handmade for me!  Not only does it look great to just wear, I've found it looks fabulous when I thread through the ends of a wrap top I bought at an Intimo party.  So versatile!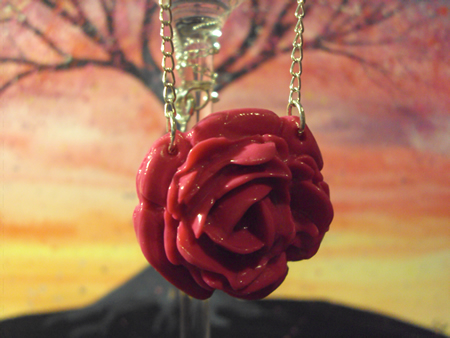 I just love this Hot Pink Rose Cabochon necklace – I've been looking for a nice bright pink necklace for ages, and this one is just perfect!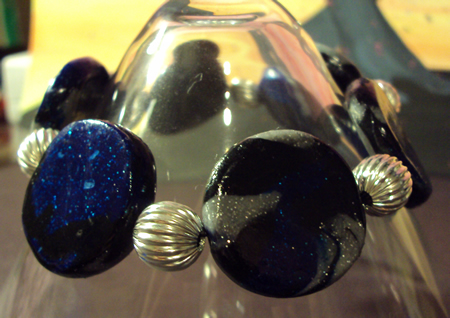 My favourite item by far is this gorgeous bracelet made with handmade sparkly blue, black and silver beads.  It is just my style and is *so* comfortable to wear (yes, I HAD to wear it as soon as it arrived in the mail – and I happened to be wearing blue that day too so it must have been fate).
My photos (taken late at night because I'm too impatient to wait until the weekend when I'll have time to take daylight photos) really don't do this beautiful jewellery justice, so please check out Briony's store to see pieces like these and many other beautiful jewellery items.