At first I wasn't sure I was even going to contribute to this week's Inspire Me Thursday.  I thought about making homemade soup and photographing it, but it's the middle of summer here and I just don't feel like eating soup.
Eventually I came up with this idea:
"Primordial Soup"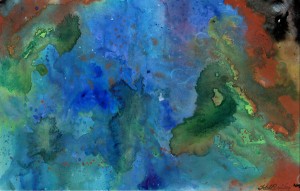 The original plan was to do a background and then paint over with black to make amoeba-looking shapes.  But I liked the background so much that I thought I would just keep it the way it is.  You can imagine the microscopic amoebas floating around in that water.