This week's topic over at Inspire Me Thursday is Moon.  I immediately knew what I was going to paint (although the finished product varied slightly from what I had in my head, as is often the case).
I have titled this work "Tipped with Silver".  It doesn't show up too well in this picture, but the edges of the tree branches have been given a very thin silver outline.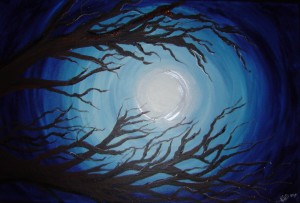 This Sunday was my first visit to the Springfield Lakes Art Group, and I had a great time!  This week Sally Harrison came along to teach us all some techniques, and our focus was colour mixing.  We were given a strip of paper from a famous painting, and our task was to try to make the strip "disappear" by matching the colours.  I found it very challenging!  My strip of paper was from a painting by Camille Pissarro, although I'm not sure which painting it was.  This is what I came up with: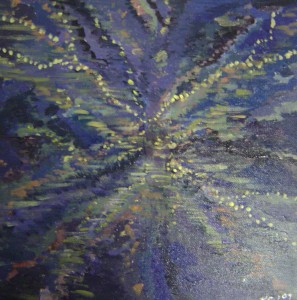 I had a lovely time and learned a thing or two.  Many thanks to everyone at the Springfield Lakes Art Group, and especially to Sally Harrison – you can check out her beautiful artwork here.