OK, OK.  I know.  I've been REALLY slack lately.  No blog posts, hardly any posts on my facebook fan page.  I've been in a bit of a creative funk lately (I blogged about it over at Handmade Spark).  It's been a tough term at school – that's my excuse anyway.
Now that I'm on school holidays, I'm beginning to crawl out from the rock I've been living under, and start connecting with the art community again.  So this blog post is a catch up – like at the beginning of a TV show when they tell you all the stuff that happened in the last episode.  Here's what you missed…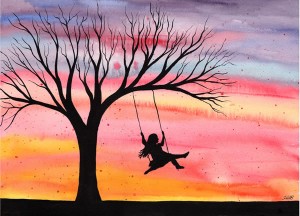 The Art for Art's Sake exhibition was a success – my Sunset Joy painting sold and was able to raise $200 for the Cerebral Palsy league.  I was proud that my little painting could make a difference!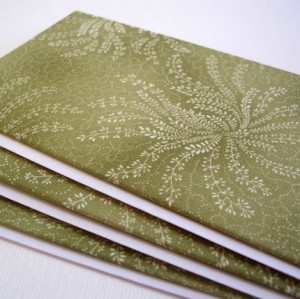 I've been lucky enough to participate in another DUST team swap (Meanwhile, isn't saying DUST team a bit like saying ATM machine?)  This time I was paired up with Deb from Georgica Designs.  Deb makes gorgeous fabric greeting and note cards, and I was lucky enough to receive a package of mixed cards and gift tags.  They are so simple and elegant, perfect for that special person's birthday!
In return, I've sent Deb her very own original painting, with a matching pendant.  I've named it Deb's Garden: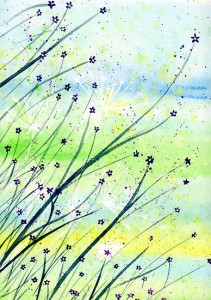 Karen from New Earth Soaps was kind enough to feature my Summer Field painting on her blog.  I was also honoured that my Rescued painting was featured by fellow tea lover Verity on her blog, Nice Life With a Cup of Tea.  I always feel blessed when someone has liked my work enough to feature it on their blog.  I've added both  Etsy stores to my favourites and look forward to ordering some of the gorgeous looking sugar body scrubs from New Earth Soaps and lovely hand-blended tea leaves from Joidetea.
If you'd like to see my artwork in person, take yourself along to Cafe @ Kitchener, where my artwork is featured along with the work of some other wonderful local artists.  You can relax with a coffee while you view beautiful artwork!  Many thanks to Michelle from Art Salon for letting me know about this opportunit and for doing all the running around and organising.  Michelle is having a Studio sale at the moment – have a look at some of the amazing paintings she's selling at up to 50% off (I've seen some of these personally and trust me they are even more beautiful in person!).
Stay tuned for more (hopefully more regular) posts from KL Bailey Art!