In the last couple of weeks, I've done more painting than I probably did during the whole of last year.
There were lots of reasons for it including work (my day job is teaching) as well as some difficult things I was going through. I just wasn't in the mood to paint, and when I did give it a go I wasn't happy with the results.
For one reason or another, I seem to have gotten my 'groove' back, and have lots of new ideas for paintings running around in my head.  I've decided to finish off any unfinished work before I get to the new stuff.
You might remember a while back that I started a commission for some friends of mine.  The challenge was to create a large acrylic on canvas version of my painting Colours of Nature.  Well, I finally finished it!  All those little swirls took quite a while but I'm very happy with the result.  I can't wait to see it hanging up!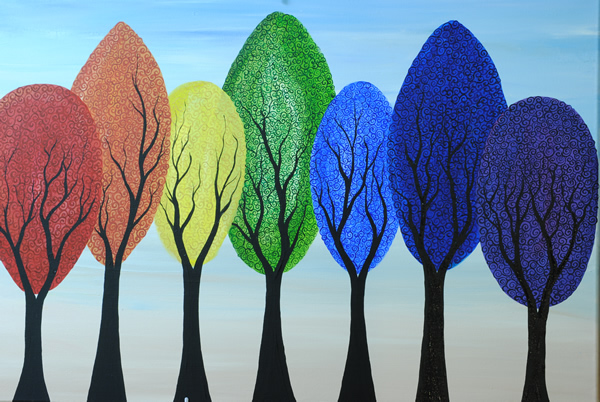 After finishing this painting I felt such a sense of accomplishment, I wanted to do more!
First I painted this one, which I'm calling "Rainbow on a Cloudy Day".  It's a LOT smaller than the one above – it's only 4″ x 6″.  It can stand up on its own so can be put on a shelf instead of hung on the wall.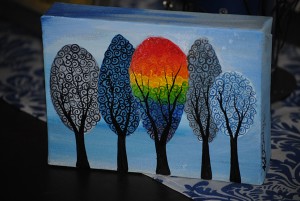 After completing this one I really wanted to have a go at some other new ideas in my head (and play with some new paints) but I thought I should finish off some unfinished work.  So…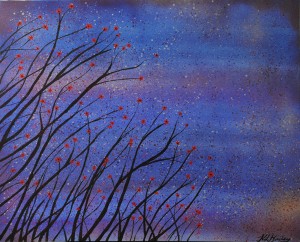 I finished this one, which has been sitting and waiting patiently for more than a year for some attention.  Well, it's nearly finished anyway – all I have to do is spray on a coat of sealant and it's done.  I have done many watercolour paintings in this style, but it was a challenge to create the same effect with a canvas!  I'm eager to try to do more like this.
Finally, I also finished this painting: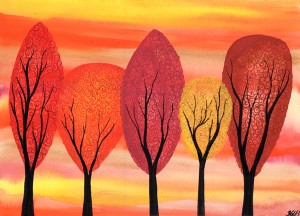 There was really no excuse for not getting this painting finished earlier, as all that was left to do was the tree trunks and branches – all of the detail work in the swirls was already finished.  I'm very happy with how it turned out in the end!
Hopefully I will be able to keep you up-to-date with lots of new work in the future!