It's been a little while since my last update, and there's been quite a few things going on since then!
Heart Felt Exhibition
In August I was lucky enough to be involved in an exhibition called Heart Felt at the Mezzanine, Entangle Living art. What a fantastic space! The gallery space (the Mezzanine) is housed in an old butter factory, and is located above an amazing store which sells live plants (including unique indoor plants grown using the Japanese art form Kokedama), handmade homewares, gifts, and small artworks. For those who haven't visited, it's well worth the trip up to Dayboro. We took the family up for the day during the exhibition, had a lovely morning looking at the Dayboro markets, and the kids were very impressed by the little lolly shop a few doors down from Entangle: Living Art!
I was thrilled to be able to participate in this exhibition alongside some amazingly talented artists, and was able to sell three paintings to a lovely lady who viewed them at the exhibition and contacted me afterwards to purchase.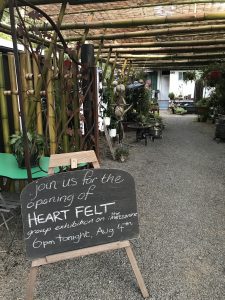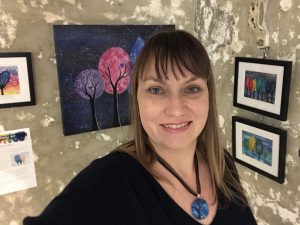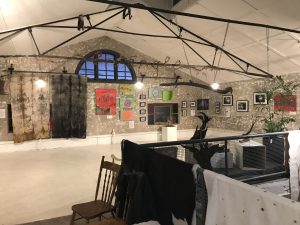 Ipswich on a Palette Exhibition
In September I participated in another exhibition. This one had a unique concept – it was called 'Ipswich on a Palette", and invited artists to create a scene representing the city of Ipswich on a wooden artist's palette. I chose to represent a Jacaranda tree – it's one of my favourite trees and is very iconic to the area of Ipswich (even though it's not a native plant!) Every year in Goodna there is a Jacaranda festival, and I just love seeing all the trees in bloom!
Toy to the World
Another project I've been working on is decorating a Popobe Bear for the Toy to the World charity exhibition. This exhibition has been running for several years, but this is the first time I've had a chance to participate. Creating my bear was fun and challenging! I am very proud of how he turned out, but I don't think he compares to some of the other artists' entries I've seen. It really is an amazing group of artists! All proceeds from the charity auction go to the Victorian AIDS council. Opening night for the exhibition is tonight, and the exhibition runs for 4 days. For those of you (like me!) who are unable to get to Victoria to see the bears in person, there will be an online charity auction held through Facebook. I strongly recommend you to check it out, because I've seen a sneak peek of some of the bears, and they are INCREDIBLE. Seriously proud to be involved in such an amazing exhibition alongside so many great artists, and for such a wonderful cause.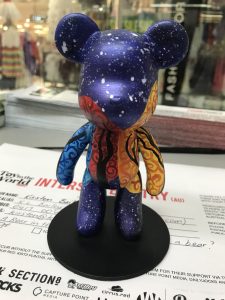 Apart from the projects mentioned above, what else have I been up to? Well, I've been working on a commission and a new series of works. More to come!