It's been a while since I've participated in an Inspire Me Thursday challenge, but I've really enjoyed this one:
This week, let's try something a little different. Let's all download Mademoiselle Caroline Rivière and use her somehow in a piece of art. You can cut, collage, paint, decoupage, whatever your heart desires as long as you use some part of this image in your art.
The portrait of Mademoiselle Caroline Rivière is a painting by the French Neoclassical artist Jean Auguste Dominique Ingres, now in the Louvre. [more information here]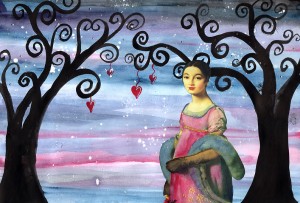 My interpretation of this challenge was to create a watercolour painting/collage with one of my signature style backgrounds.  I also gave her a bit of a wardrobe update and a bit of extra lippy.  I've titled this one "Mademoiselle Caroline Riviere Dreams of Love on a Starry Night".
If you'd like to buy this painting, it is available at my etsy store.