The Heart Felt exhibition at :the mezzanine:, Entangle – Living Art, is happening in just under a week and I'm starting to get nervous excited!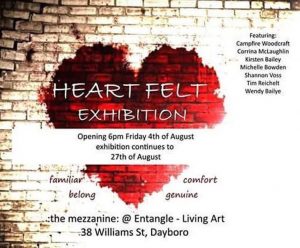 This is the first time I've been involved in an exhibition since before my daughter was born, and I think the theme fits perfectly with my painting style. Many of my paintings, especially my 'family tree portraits', feature hearts and convey feelings of belonging, love and connectedness.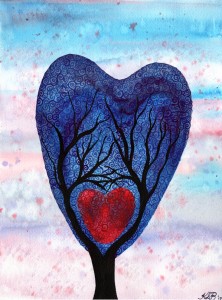 I really enjoy being involved in exhibitions. Not only do they give me an opportunity to showcase my work, but they also allow me to see the work of others. My husband is staying home with the kids on Friday night for the opening, so this exhibition will also an opportunity for a kid-free night out!
If you enjoy my work, I really hope you'll take this opportunity to come and see it in person. I do my best to scan or photograph artwork carefully, but seeing it in person really brings it to life. There are also 6 other artists showcasing their work, and from what I've seen of their work so far, I'm extremely honoured (and maybe a little intimidated!) to be showing my work alongside theirs.
"Heart Felt" opens at 6pm on Friday 4th August at :the mezzanine: @ Entangle – Living Art, 38 Williams St, Dayboro. The exhibition runs through until August 27.