We've had a few very chilly nights here in sunny Qld lately – certainly no snow though!  But, as I'm heading off to the Snowy Mountains for a skiing holiday soon I've got snow on the brain.  Especially as they haven't had much snow yet this season.  Let's hope these snowy handmade beauties from Etsy will send the right message out into the universe – let it SNOW!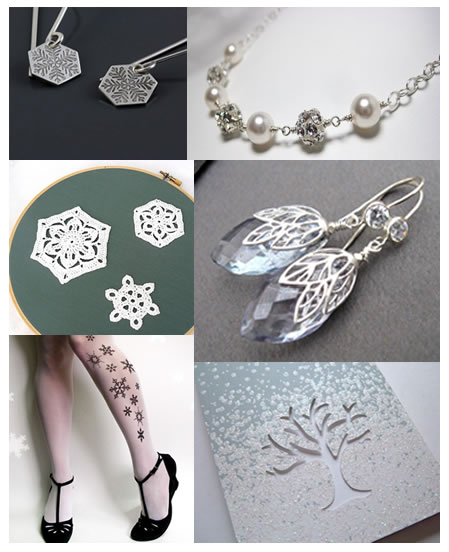 Left to right and top to bottom:
1.  Snowflake etched stirling silver earrings by Jenna Appleton.  These are the perfect winter accessory!  I love the delicate snowlakes and the hexagon shaped stirling silver.
2.  Snow Crystals Bridal Necklace by the Beautiful Garden Boutique.  This necklace is so elegant and pretty!  It's advertised as bridal jewellery, but I think it would also be stunning worn with an evening gown and a pair of matching earrings.  You could even use it to dress up more casual outfits – a very versatile piece!
3.  Hoop Framed Wall Hanging – Snow in the Forest by Caitlin Sainio.  Isn't this pretty?  It features three hand crocheted snowflakes mounted on a forest green background.  And I love the title, "Snow in the Forest" – it conjures up all kinds of peaceful images of large flakes of snow falling on trees.
4. Snowy Queen Blue Icicle Mystic Quartz marquis CZ Earrings by Blue Tulip Designs.  I love the way these elegant earrings have just the slightest tinge of blue to them.  And they're on sale at the moment, so how could you resist?
5.  Snow Queen Tattoo Tights by Tattoo Socks and More.  These are just the coolest thing ever!  I love this idea.  Make sure you check out the Tattoo Socks Etsy store, as there are lots of other cool designs like butterflies, swirls and peacock feathers.
6.  Snowy Tree Notepad by Jennifer Boston.  I fell in love with this stunningly pretty notepad featuring a tree being dusted by glittery snow before I even realised who had created it.  I get most of my supplies for pendant making from Jennifer's supplies store, The Crafty Dragonfly.  So, I can personally vouch for the friendly, personal service, quick delivery and careful packaging which have made me keep visiting her store.
I hope these beautiful items have put you in a snowy kind of mood – even if you're in a part of the world where it's summer right now.  I'll post up a pic of me in the snow when I get back from my holiday, and who knows, maybe I'll come up with some of my own snow inspired art too!